Artisan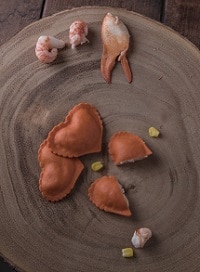 Heart Shaped Maine Lobster & Sweet Corn Ravioli
Maine Lobster knuckle and claw meat blended with fresh ricotta impastata, asiago and freshly grated Wisconsin parmesan cheeses wrapped in tender sheets of heart shaped pasta made from Montana durum wheat, beet and fresh egg.
Product Spec Sheet; Heart Shaped Lobster Ravioli
ITEM#:

49131

Pack:

2 - 3 LB

Case Count:

1

Shape:

Heart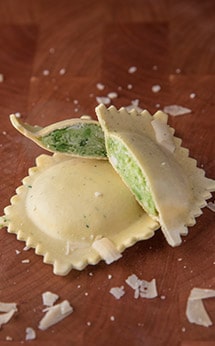 Spring Pea and Yukon Gold Ravioli
Celebrate Spring! Fresh spring peas, Creamy Yukon gold potatoes and Freshly Grated aged Wisconsin parmesan wrapped in tender sheets of Montana Durum Wheat, Italian Parsley and Fresh Egg Pasta.
ITEM#:

40997

Pack:

2-3 lbs

Case Count:

Approx 70 count

Shape:

Large Hex