Artisan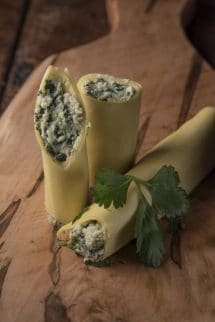 Chicken, Spinach and Mozzarella Cannelloni
Tender, sautéed chicken breast and thigh meat, freshly grated Wisconsin cheese, spinach and spices wrapped in tender sheets of Montana durum wheat, Italian parsley and fresh egg pasta.
Product Spec Sheet; Chicken Spinach Cannelloni
ITEM#:

72152

Pack:

50-2.5 ounce

Shape:

4" Tube Filled Tube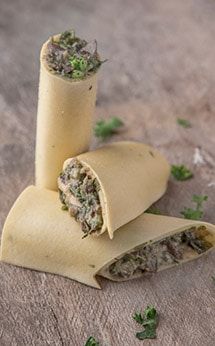 Local Tennessee Mushroom Kale Cannelloni
Plump Tennessee Mushrooms sautéed with garlic, fresh herbs and Tennessee Red Russian Kale,wrapped in tender sheets of Montana Durum Wheat, Italian Parsley and Fresh Egg Pasta. Fully cooked, heat and serve.
Mushroom and Kale Cannelloni Sell Sheet
ITEM#:

70197

Pack:

50-2.5 ounce

Case Count:

50 each

Shape:

4" Tube Filled Tube