April 10, 2018
Item Spotlight; Spring Pea and Yukon Gold Ravioli
It's been a long, cold Winter here in Nashville and we could not be more excited to greet Spring!  Birds are singing, flowers are blooming and produce is sprouting!  For Alfresco Pasta, Spring means the return of our seasonal Spring Pea and Yukon Gold Ravioli.  Spring peas pack a uniquely fresh and sweet flavor while delivering a host of vitamins and nutrients such as Vitamins A and B, Calcium, Iron, Zinc and Potassium.
Available under our Wholesale AND Retail programs, our Spring Pea and Yukon Gold Ravioli combines only the freshest of English Peas with creamy Yukon gold potatoes and freshly grated aged Wisconsin parmesan cheese, all wrapped in tender sheets of freshly made pasta made of Montana durum wheat, Italian parsley and fresh eggs. You can actually taste Spring in each bite!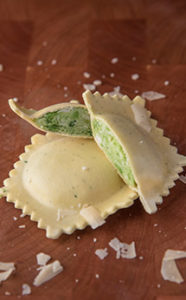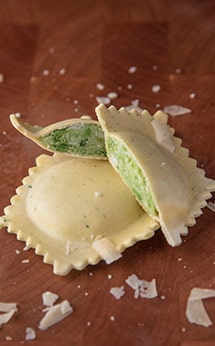 1 pound Alfresco Pasta Spring Pea Ravioli
2 Tbsp unsalted butter, room temperature
4 slices prosciutto cut into strips¼ cup vegetable stock
¼ cup Dry White Wine
½ cup frozen peas, defrosted
¾ cup pea shoots
1 Tsp Fresh Lemon Zest
1 Tsp Fresh Lemon Juice
2 Tbsp chopped fresh mint
¼ – ½ cup freshly grated Aged Parmesan or Asiago cheese
While preparing sauce, cook Ravioli in large pot of lightly salted simmering water. Simmer gently for 6-7 minutes or until ravioli are tender, but not overcooked.
Melt butter over high heat in large heavy bottomed large skillet. Add prosciutto and cook over high heat until crisp. Add wine, stock and ½ cup pasta cooking water and reduce by half. Stir in lemon juice, zest, pea shoots and peas and heat for 1-2 minutes. Toss in ravioli and garnish with parmesan and fresh mint. Serve immediately. Serves 4.   Enjoy!
View Related Post
August 08, 2018
View Next Post
May 03, 2018